Located in the rolling hills of southern Idaho, Silver Mountain Shepherds has been providing the United States and Europe with top-of-the-line, purebred German Shepherds for 50 years. Our renowned commitment to excellence is apparent in the perfection of our dogs. Our white, silver, and black lines have long been celebrated for their unique color, sound disposition, and extraordinary intelligence.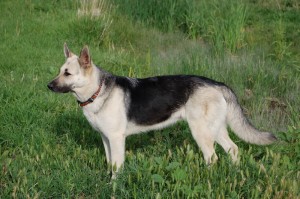 Silver Mountain Shepherds benefit from thousands of acres of open range and farm ground. The ample space and abundant exercise ensure that our German Shepherds grow healthy in mind and body. While they are our family and friends, our shepherds are primarily working dogs. Their exceptional versatility has placed them in such occupations as herding, hunting, drug detection, search-and-rescue, K-9, and family guard dogs. It is precisely this kind of versatility that makes our German Shepherds the best family pets. Whatever your needs, they will be your best friend and protector.
Silver Mountain Shepherds are selectively bred to generate only the highest quality dogs in color, disposition, and intelligence. Purchasing a German Shepherd puppy means selecting your most loyal companion for several years to come. We therefore invite you to visit us to become acquainted with the puppies parents and their natural habitat. All of our puppies are vaccinated, dewormed, and microchipped for your added security and convenience.